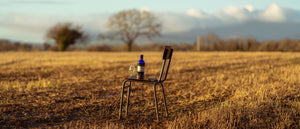 A Night of Irish Single Malt Whiskey with Mark Reynier & Waterford Distillery

A very special night with the Founder of Waterford Irish Whiskey, and ex-head of Bruichladdich Distillery, Mark Reynier!

Some experts say Whisky is just an industrial spirit and that it makes no difference where you source your ingredients from; you can't taste the difference. Mark has made it his life's work to prove that's just not true.

Mark's wildly popular experiments at Bruichladdich like Octomore (one of the smokiest Scotch Whiskies ever), Organic Barley and Islay Barley releases showed that people care about how their whisky is made.After his time there was cut short, Mark has carried the vision forward with Waterford Irish Whiskey.

You'll be some of the first in Australia to taste these whiskies and hear from one of the most influential figures in today's world of whisky.

On Taste:
- Waterford The Cuvée
- Waterford Single Farm Origin- Killone*
- Waterford Gaia - Organic
- Waterford Luna - Biodynamic
- Waterford Fenniscourt- Peated
- Waterford Woodrow - Heavily Peated*
*never seen before
Where: The Elysian Whisky Bar
When: 29th of November 2023
Time: 6pm till 7.30pm
Price: $65pp
Book now and don't miss out!