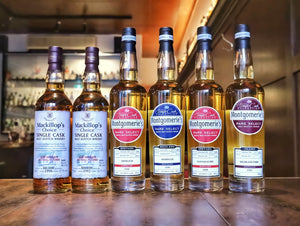 Angus Dundee Tasting with Liam Clarkin of The Spirits Company
Our next tasting is with 2 brands from the Angus Dundee company - Mackillop's Choice & Montgomerie's. Angus Dundee has over 60 years of experience in distilling, bottling and exporting Scotch Whisky around the world. Apart from these 2 independent bottling brands, they also own the Tomintoul and Glencadam distilleries.

Mackillop's Choice is an independent whisky bottler, and was founded in 1996 by Angus Dundee Distillers (owner of the Glencadam and Tomintoul distilleries).

It is named after Lorne Mackillop. Lorne Mackillop is the heir to the chief of the Mackillop Clan, which was all but wiped out by the English in the aftermath of the battle of Culloden in 1745 during the Jabobite Rebellion.

After seven years extensive training in wines and spirits, Lorne Mackillop became a member of the Institute of Masters of Wine in London in 1984, and, at that time, was the youngest person to be accepted as a Master of Wine. The Institute presides over the most demanding examinations in wines and spirits in the world and, since its foundation in 1953, only a few members worldwide have passed these examinations and been considered worthy of this prestigious qualification. His comprehensive knowledge of whisky is reflected in the quality of "Mackillop's Choice".

Lorne selects the casks that are bottled in the Mackillop's Choice range. It is a range of specially selected single malt Scotch whiskies drawn from individual casks, and are bottled at either 43% or 46% alcohol, but more predominantly at their natural cask strength.


The Montgomerie's range is also bottled by Angus Dundee and are usually at 46%.

Presenting the whiskies to us is whisky expert, Liam Clarkin from The Spirits Company. Together, we have put together a line-up of some very interesting whiskies, all with good age statements, but the highlight would definitely have to be the Bowmore at 25yo! Full line-up below.
The whiskies that will be on tasting are:
1) Montgomerie's Aberfeldy 1996/2017 21yo, Bourbon Cask #4713, 46%  RRP $280
2) Montgomerie's Glenallachie 1995/2017 21yo, Bourbon Cask #15019, 46%  RRP $275
3) Montgomerie's Aberlour 1996/2017 21yo, Bourbon Cask #900053, 46%   RRP $250
4) Mackillop's Choice Dailuaine 1998/2017 19yo, Bourbon Cask #9288, 57.7%  RRP $290
5) Montgomerie's Highland Park 1994/2015 21yo, Bourbon Cask #33, 46%  RRP $320
6) Mackillop's Choice Bowmore 1992/2017 25yo, Bourbon Cask, 50.7%  RRP $680


When: Wednesday, 5th of October 2022
Time: 6pm - 7.30pm
Where: In-person at The Elysian Whisky Bar
Price: $99 per person (6 x 15ml)
Spaces are limited, so don't miss out and grab your tickets now !