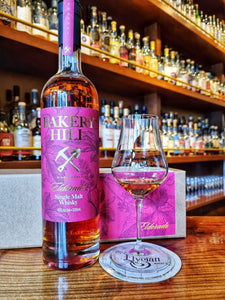 Bakery Hill "El Dorado" Apera Finish, 48%
From a Single Cask #218-275-32. Initially matured in American Oak cask for 3 years and then followed by a secondary maturation for 18 months in Seppetsfield Barossa Valley Apera Cask.
Tasting notes:
Golden syrup, zesty, strawberries, candy floss. Blackforest, blueberries, raisins. Gentle and easy drinking. Turkish delight.