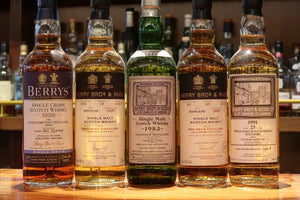 Join us in our very first online tasting! And there is no better tasting than this one to kick things off. The tasting is also our way to celebrate World Whisky Day which falls on this same day. Hosting the tasting with us will be the ever knowledgeable and fashionable Joey Tai. For those of you who do not know Joey, she has been in the bar industry for more than a decade and as of recent years has been working with a number of spirits brands, including Berry Bros & Rudd. So we could not think of anyone better to host this with us.
For this tasting we have put together 5 pretty amazing bottlings, with 2 of them being exclusive bottlings for reknown retailer, Shinanoya in Tokyo.
The whiskies that will be on tasting are:

Berry Bros & Rudd Benrinnes 1997/2017 19yo Bourbon Cask #856, 46%
Berry Bros & Rudd Retro Label for Shinanoya Aultmore 1991/2015 23yo Bourbon Hogshead #6090, 49.9%
Berry Bros & Rudd Retro Label for Shinanoya Teaninich 1983/2018 34yo #6729 Refill Bourbon Hogshead, 46.2%
Berry Bros & Rudd North British Single Grain 1996/2014 18yo Oloroso Sherry Butt #224766, 56.8%
Berry Bros & Rudd Ben Nevis 1997/2018 20yo Sherry Cask #85, 54.6%
Tasting will be done via Zoom

When: Saturday, 16th of May 2020
Time: 3.30pm - 4.45pm
Price: $82 per person (for 5 x 15ml samples)

There is a delivery fee of $8 when you checkout.
For Melbourne customers who can pickup from the bar, please click on "Pick up" when checking out.
We are aiming to have the samples ready for collection on Friday (the 8th of May and another day next week). You will be further contacted.

* Interstate customers are more than welcome to join too, but there is a risk of the samples not arriving in time, because of the current delivery times. The postal service we are using currently has a turnaround time of 5 days.
Join us online on the day if you can, but otherwise if you just want to purchase a tasting set for yourself to enjoy at your leisure or as a gift for someone else, be our guest too.