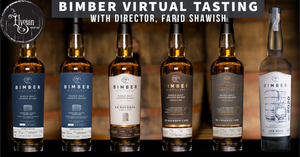 This is the inaugural tasting of Bimber whiskies in Australia. Many of you might have heard of the name before, but for those who don't know, Bimber is a new distillery in London, and it already has a cultish following because of it's quality single malts.

Bimber Distillery
Bimber Distillery was established in 2015 by founder and master distiller Darius Plazewski in West London. He is a third generation distiller, hailing from Poland. The name "Bimber" means moonshine in Polish. He learned his craft from his grandfather and father, and believes in distilling using human senses - of sight, touch and smell. Darius initially went to the UK to focus on studying and learning how to do business. But he always wanted to eventually follow his passion and start a distillery. In 2015 he did just that.

Bimber practices very traditional whisky-making techniques. The journey begins at a single farm, where all their barley is grown. The barley is then traditionally floor malted. Next, it is traditionally milled (using a specifically-built mill) that crushes the barley open rather than shredding it, to reduce the amount of flour produced. With less flour, you get a clearer wort, which results in a lighter whisky. Darius runs fermentation for seven days (which is a very long ferment) which gives lots of esters, making the whisky fruity and light. Fermentation is done in American oak wooden washbacks that were hand-made at their own cooperage. They use direct fire to heat their two small Holga copper pot stills. The distilled spirit is then matured in hand selected casks, and finally bottled on site as well. The first casks were laid down on the 26th of March 2016, and their inaugural single malt whisky (The First) was released three years later in September 2019. Every step of their whisky making process has been carefully though out and designed to create a whisky that is full-bodied, fruity and flavourful.

Presenting to us will be Bimber's Director and Co-Owner, Mr Farid Shawish, an Australian expat living there in London. Farid also oversees the sales and strategy for Bimber. So don't miss out and join us for this exiciting and tasty tasting, and learn more about this fantastic new distillery.
On tasting is 6 x 15ml of:
Bimber New Make Batch 201/2020, 63.5%
Bimber Ex-Bourbon Casks Batch No.2 Batch 02/2020 2950 Bottles, 52.2%
Bimber Single Cask Ex-Bourbon Cask #12 Bottled May 2020 264 Bottles, 58.7%
Bimber Single Cask Ex-Charred Cask #144 Bottled October 2020 303 Bottles, 57.9%
Bimber Single Cask for Australia American Oak Virgin Cask #140 Bottled October 2020 71 Bottles, 58.1%
Bimber Single Cask for Australia Sherry Cask #137 Bottled October 2020 57 Bottles, 57.7%

When: Monday, 25th of January 2021
Time: 8pm - 9.30pm AEDT
Where: Via Zoom at the comfort of your own home
(Zoom link will be sent out a few days before the event)
Price: $60pp. (for 6 x 15ml samples)

Limited packs available so book now and don't miss out!