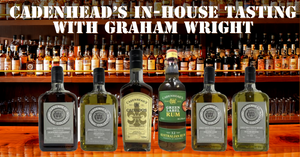 Join us in our first in-person tasting since the start of the pandemic, yes you heard it right, not virtual! We will tasting the new range from Cadenhead's, Scotland's Oldest Independent Bottler. There has been some "changes" recently at Cadenhead's, that might have created a bit of angst amongst Cadenhead's fans. Explaining all these changes to us on the night is Graham Wright of The Odd Whisky Coy, distributor of Cadenhead's in Australia.
A brief history on Cadenhead's
Independent whisky and rum bottler, Cadenhead's was established in 1842 (175 years ago) at 47 Netherkirkgate, Aberdeen, by a gentleman by the name of George Duncan. A decade later, he invited his brother-in-law William Cadenhead to join him. Duncan passed away in 1858, and Cadenhead took over the business and changed the company name to his own. The company continued to grow over the years, as they bottled more and more interesting whiskies, rums and also gin. In 1972, J & A Mitchell (who also owns Springbank) bought Cadenhead's, and after 130 years of trading at Netherkirkgate, the company moved to Campbeltown. Cadenhead's continues to bottle whiskies that are non chill-filtered and non-coloured today. In 2012, Mark Watt, who had been working for Duncan Taylor, joined the company, and his mission was to rewamp the portfolio of whiskies, and as a result, a number of new ranges were created. In 2017, Cadenhead's celebrated its 175th Anniversary.
On tasting : 
Cadenhead's The New Styles
Cadenhead's Original Collection 10yo Dufftown Bourbon PX Sherry Casks, 46%
Cadenhead's Original Collection Deanston 10yo Bourbon Madeira Casks, 46%
Cadenhead's Original Collection Strathclyde 31yo Grain Whisky, 46%
Cadenhead's Original Collection Tullibardine 13yo, 46%
Cadenhead's Distillerie Dupont 13yo Pays D'Auge Calvados, 44.8%
Cadenhead's 12yo Green Label Australia Rum, 46%
Book now and join us in an informative tasting with Graham Wright, as he tells us more about the Cadenhead's, the changes, and more importantly, let's just try some tasty whiskies, rum and brandy !!!
When: Thursday, 20th of May 2021
Time: 6pm - 7pm
Price: $45 per person
Spaces are very limited !
Bottles will be available for purchase after the tasting