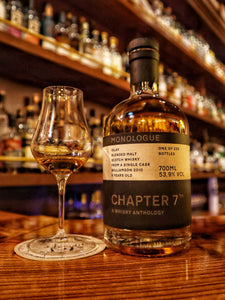 Chapter 7 Monologue Williamson 2010/2020 9yo, Bourbon Barrel #907, 235 Bottles, 53.9%.
This is a bottling of aa single cask Laph****g by Chapter 7. It was fully matured in a single bourbon barrel and bottled at cask strength at 53.9%.
Tasting note:
Clean and fresh on the nose. Like walking through a wet forest. Forest moss and dirt. Then comes the oyster and seabrine and some old cupboard. Very savoury on the palate. Medicinal and peaty. Lots of flavours but very soft and gentle. Finishing on some shiitake mushrooms.