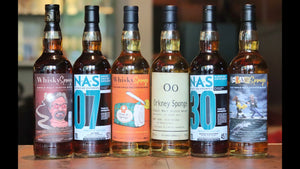 Scotland based Independent Bottler, Decadent Drinks has well and truly landed in Australia, with their wide ranging labels WhiskySponge, Equinox & Solstice, RumSponge, ArmagnacSponge, CognacSponge & NAS (Notable Age Statements). The brainchild (or fever dream) of Angus MacRaild, a drinks writer who earned the moniker the "WhiskySponge" for his ability to seemingly soak up all the good whisky at a dinnertable, Decadent Drinks started as a passion project, and has grown into a (not too) serious bottler of premium sipping spirits. Distributed in Australia by The Whisky List, the labels are notoriously fun and satirical, usually with "Sponge" appearing next to icons of the whisky industry or in all kinds of wacky scenarios. On the launch of the product in Australia, Angus shared, "it's slightly mind melting to me, but also very heartening, that the whiskies we've selected for bottling and their respective very silly and surreal labels are being enjoyed on the upside-down bit of the planet. Hopefully I too will make it all the way over there one day for real life whisky hi-jinks and fun."

Presenting the whiskies to us will be the amazing Scott Allan (Sales & Events) & Emma Cookson (Brand Ambassador) of The Whisky List. If you are new to the brand, you have to come along and see why the brand is so popular, and if you already are a fan, you MUST not miss this.
In this tasting:
6 x 15ml
1) Decadent Drinks NAS 2 Ben Nevis 2014 7yo 2nd Fill Sherry Wood, 57.1%
2) Whisky Sponge No.57 Glenlivet 2007/2022 14yo 1st Fill Sherry Hogshead 364 Btls, 53.0%
3) Whisky Sponge No.59B Pride of Sponge Highland Single Malt 1993/2022 28yo Refill Hogshead 286 Btls, 46.1%
4) Orkney Sponge Edition No.2 Old Orkney 2005/2022 16yo Refill Hogshead 341 Btls, 55.0%
5) Decadent Drinks NAS 1 30yo Blended Malt Matured in Sherry Wood, 45.1%
6) Islay Sponge Part 1 Islay Single Malt 1990/2022 31yo Refill Barrel 253 Btls, 50.6%

When: Wednesday, 7th of December 2022
Time: 6pm - 7.30pm
Where: The Elysian Whisky Bar
Price: $120 for 6 x 15ml

Limited seats available, so don't miss out and grab a ticket now!