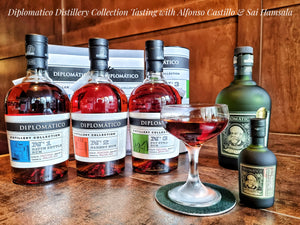 Join us in a virtual tasting with one of our favourite rums, and one from Venezuela - Diplomatico. In this tasting we will be looking at Diplomatico's "Distillery Collection" as well as tasting some of the rums in their core range in two delicious cocktails. The Distillery Collection showcases Diplomatico's diverse distillation processes. Over the years, Diplomatico has developed a unique style of merging different distillation methods to produce a wide range of complex distillates. The Distillery Collection highlights these distillation systems with three expressions, a Batch Kettle rum, a Barbet Column rum, and a Pot Still Rum.
Whilst the core range from Diplomatico utilises and blends a variety of distillates (with their distinctive aromas and taste profiles) to create the characteristics of Diplomatico rums, the "Distillery Collection", on the other hand, offers rum aficionados the opportunity to discover these single distillates in their purest form, featuring each rum's individual personality.
Talking us through the long history of Diplomatico and its meticulous rum making processes will be Alfonso Castillo (Diplomatico Asia Pacific Manager) & Sai Hamsala (Diplomatico Brand Ambassador & 2015 Diplomatico World Tournament Winner). Sai has also designed 2 different cocktails that showcases their Diplomatico Planas and Diplomatico Reserva Exlusiva.
In the pack: 
2 x Diplomatico Cocktails (Crafted by Sai Hamsala)
+
Diplomatico "Distillery Collection" No. 1 (Batch Kettle Rum)
Diplomatico "Distillery Collection" No. 2 (Barbet Column Rum)
Diplomatico "Distillery Collection" No. 3 (Pot Still Rum)
+
A Mini Bottle of Diplomatico Reserva Exclusiva (50ml)

Come join us and learn more about the long history and amazing range from Diplomatico.
Packs are limited, so don't miss out and book now !
When: Monday, 27th of September 2021
Where: At the comfort of your own home via Zoom
(link will be sent a few days before tasting)
Time: 8pm - 9.30pm
Price: $49 per person


Bottles will be available for purchase after the tasting!