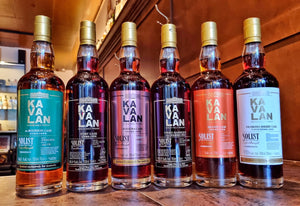 Kavalan was established in 2005 in the town of Yanshan, in Yilan County, Taiwan. On the 11th of March 2006 at 3.30pm, the first spirit was produced. The distillery is owned by Taiwanese conglomerate, King Car Group, and the project was the brainchild of founder and entrepreneur Tien-Tsai Lee. Right from the get-go, they knew they needed expertise from Scotland, and the late Dr Jim Swan was hired to consult on the setup, production and also cask maturation strategy. Master Blender & Distiller Ian Chang was trained by Dr Jim Swan, and they worked very closely to create the flavours they wanted for Kavalan.

After the expansion works at Kavalan completed in late 2017, they now have 10 pairs of copper pot stills, doubling their capacity from before the expansion, making them one of ten largest malt whisky distilleries in the world. Over the past few years, Kavalan whiskies have been scooping up top awards, including "World's Best Single Malt Whisky" in the prestigious World Whiskies Awards (WWA) for its Kavalan Solist Vinho Barrique in 2015, and "World's Best Single Cask Single Malt Whisky" also in WWA for its Kavalan Solist Amontillado Sherry.

It is a well known-fact in the industry that Kavalan invests heavily in their casks, and flies around the world procuring the best casks from the best bourbon distilleries, sherry & port bodegas and wine producers. In this tasting, we will be looking at  different bottlings from their Solist range, where the whiskies are filled into 1st fill casks and are bottled as single cask at cask strength. 5 of 6 casks we are trying are exclusive only to Australia! Presenting to us will be Liam Clarkin of The Spirits Company, the importers of Kavalan to Australia.
On Tasting:
Kavalan Solist Ex-Bourbon (Australian Exclusive), 176 Btls, 54.8% (RRP $199)
Kavalan Solist Port Cask (Australian Exclusive), 205 Btls, 59.4% (RRP $250)
Kavalan Solist Madeira Cask (Australian Exclusive), 211 Btls, 57.8% (RRP $299)
Kavalan Solist Vinho Barrique (Australian Exclusive), 212 Btls, 58.6% (RRP $299)
Kavalan Solist Brandy Cask, 557 Btls, 57.1%, (RRP $299)
Kavalan Solist Oloroso Sherry Cask (Australian Exclusive), 239 Btls, 54.8% (RRP $279)


Bottles will be available for sale after the tasting!


Spaces are very limited so don't miss out and book now !
When: Wednesday, 8th of June 2022
Time: 6pm - 7.30pm
Price: $55 per person