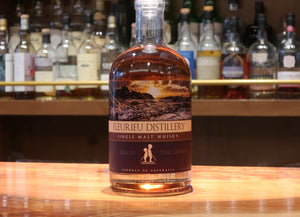 A brand new release for Fleurieu Distillery's Cellar Door, and they were generous enough to allow us to have a bottle.
Made using a 100% Australian barley, Mt Lofty spring water, and matured in South Australian Tawny Port Casks, and seasoned by the Southern Ocean climate. This whisky truly highlights the distillery's DNA.
Tasting notes: 
On the nose, there is brown sugar, dates, and dried moscatels. 
Palate has similar dried fruits such as dates and moscatels, with a hint of toasted muesli, and some umami. Chewy, medium rich, medium sweetness, not cloying. There is also a slight herbal earthy note on the back palate. Overall very balanced with a long finish. Perfect for some of these chilly autumn nights.