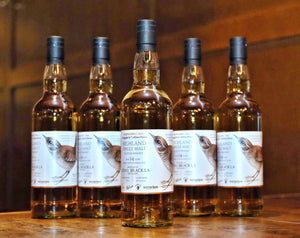 Highlander Inn "Maggie's Collection" Royal Brackla 2008/2023 14yo Bourbon Cask #80311452, 280 Btls, 52.7% for The Elysian Whisky Bar, The Roosevelt, Hains & Co, Terrarium
Absolutely stoked to be able to partner up with The Whisky List & Highlander Inn in yet another fun and tasty bottling. This time round we are joined by some friends from around the country: The Roosevelt (Sydney), Hains & Co (Adelaide) and Terrarium (Perth).
When Tatsuya Minagawa san of the Highlander Inn found this cask and he said it was good, we knew we had to do it. And it's not often you come across a Royal Brackla either. Long fermentations, clear worts, high reflux, all results in a fruity and elegant spirit. A whisky for royalty!
Tasting notes:
Nose: bright citrus, lemon custard, floral, malty, barley sugars, runny honey, orange blossom and stewed pears
Palate: bright and sweet, barley sugars and rancio, honey, heather, preserved lemons, apple crumble, chewy and long