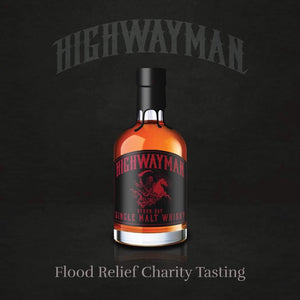 HIGHWAYMAN TASTING WITH DAN WOOLLEY - FLOOD RELIEF CHARITY TASTING
Join us in an in-person tasting with Highwayman Whisky and presenting to us is non other than owner/distiller/whisky legend Dan Woolley himself! Dan lives up in Mullumbimby where they were severely affected by the recent floods. He has very kindly donated all the whiskies for this tasting and therefore all ticket sales from this tasting will be donated to the to the Mullumbimby Flood Relief Charity.

Highwayman is the hard work and lifelong commitment of Dan Woolley. Dan has been one of the modern day faces of whisky over the last ten years, holding one of the most sought after Whisky Ambassador roles in Australia. Throughout this role he travelled countless hours, covered thousands of highway miles with a bag full of whisky, educating whisky lovers – He was the Highwayman of Whisky. This role gave him a backstage pass to globally renown distilleries throughout Scotland (especially Islay), Kentucky, Tasmania and Japan. These journeys developed a deeper understanding of production and a big love for maturation of whisky. 

In 2016 Dan started to lay down his own sprit in his chosen casks, collecting the first dozen batches from favourite distillery locations around Australia. He sent them on the highway to coastal Byron Bay, NSW, their new home (and his) where they matured while Dan started acquiring the equipment he needed to produce his own spirit. In a dream come true with an alignment with Lord Byron Distillery, on his own still he started to produce his own spirit in 2018.

In mid 2020 he launched Highwayman - his life's work in a liquid library for all to share. The first few releases were whiskies that were distilled at other distilleries but based on Dan's specifications. In 2021, he finally released whiskies that were 100% distilled by his own hands, on his own stills, as well as fully matured in Byron Bay!

In this tasting, we will be some of the first people to taste Dan's inaugural peated release! And if you know Dan, you know how much he loves his peated whiskies. Simon Lawry & David Ball from Saltsmith has also very kindly contributed to the cause, and they will be matching 3 types of bacon to 3 of the whiskies on the night.
On tasting will be 5 x 15ml samples of:
 
1) Highwayman Batch #3.0 (Peated)
2) Highwayman Batch #3.B - Honey Casks
3) Highwayman Peated Red Wine - Cask Sample
 4) Highwayman Peated Refill Bourbon - Cask Sample
5) Highwayman Peated PX - Cask Sample

Matched with 3 types of bacon from Saltsmith

When: 19th of April 2022, Tuesday
Time: 6pm - 7.30pm
Where: The Elysian Whisky Bar
Price: $85 per person
Seats are extremely limited, don't miss out!