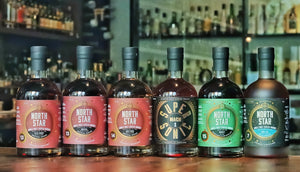 In-Person North Star Series 18 Tasting with Scott Farrow of Wonderland Drinks
North Star Spirits is not a new name in the Independent Bottling world anymore. North Star now has a massive fan base and following here in Australia, following many excellent releases. The brand was created in 2016 by Iain Croucher, former AD Rattray Brand Ambassador. Utilising his experience, skills, and some good connections, he has managed to source some amazing barrels of whiskies. His releases have already created lots of hype and attention. We at The Elysian Whisky Bar have hosted a tasting for every single series of whiskies released by Iain to date, so the tradition continues.

Presenting the latest Series 18 to us will be the importer of North Star, the amazing Scott Farrow from Wonderland Drinks.
In this tasting:
6 x 15ml
1) North Star Super Sonic Mach 1 Blended Malt, Sherry Butts, 919 Btls, 46.0%
2) North Star Glen Moray 2008/2022 13yo, Red Wine Barrique, 157 Btls, 58.8%
3) North Star Dufftown 2008/2022 14yo, Hogshead, 241 Btls, 59.5%
4) North Star Braeval 2009/2022 13yo, Oloroso Sherry Butt, 341 Btls, 55.0%
5) North Star Orkney 2007/2022 15yo, Oloroso Hogshead, 328 Btls, 59.7%
6) North Star for Wonderland Drinks Caol Ila 2014/2022 7yo, Port Octave, 60 Btls  56.9%

When: Saturday, 29th of October 2022
Time: 3pm - 4.30pm
Where: The Elysian Whisky Bar
Price: $55 for 6 x 15ml

Limited seats available, so don't miss out and grab a ticket now!