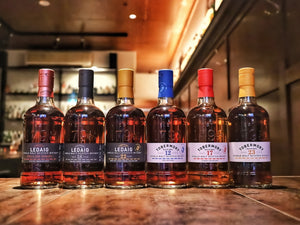 The distillery was established as Ledaig in 1798 by John Sinclair, but like many small sites, the business foundered and it seems to have been silent between 1837 until 1878 when, after a succession of owners, it was finally brought within the DCL estate in 1916. It continued to produce until 1930 when it fell silent for over four decades.
A belated member of a group of old distilleries which were recommissioned in the post-war whisky boom, it was brought back in 1972 by a somewhat unusual joint venture between a Liverpool shipping company, Sherry producer Pedro Domecq and "Panamanian interests". This unusual arrangement only lasted for three years, although the new owners renovated the distillery and increased capacity.
A short further period of silence ended when a property firm based in Cleckheaton, Yorkshire bought it with the intention of converting some of the buildings to holiday accommodation. Others were used as a facility for storing cheese. It closed again in 1982 for 11 years before being purchased in 1993 by Burn Stewart (part of South African giant Distell since 2013).
Half the year's production is dedicated to un-peated Tobermory spirit production, and the other half being Ledaig, the name given to the peated spirit produced there. Tobermory's stills are somewhat unusually shaped, with lantern-shaped, bulbous boil bulbs and seldom seen steeply inclined lyne arms that feature s-shaped kinks – the idea behind these is to increase reflux, producing a light, uniquely vibrant fruity character, a true reflection of the distillery's home in the colourful town of Tobermory.

Presenting to use will be whisky specialist from The Whisky List, Emma Cookson. Those of you from Melbourne would recognise her from her time at Whisky & Alement or at the Whisky Shows. Emma was also one of the 25 Bartenders in Drinks World Top 25 Bartenders in Australia.
In this tasting:
6 x 15ml
1) Tobermory 2007 12yo Port Pipe Finish, 58.6%
2) Tobermory 2004 17yo Oloroso Cask Matured, 55.9%
3) Tobermory 1996 23yo Oloroso Cask Finish, 46.3%
4) Ledaig Sinclair (Rioja Cask Finish) 46.3%
5) Ledaig 18yo Sherry Cask Finish, 46.3%
6) Ledaig 1999 22yo Pedro Ximenez Cask Matured, 55.6%

When: Wednesday, 14th of September 2022
Time: 6pm - 7.30pm
Where: The Elysian Whisky Bar
Price: $85pp.

Limited seats available, so don't miss out and grab a ticket now!