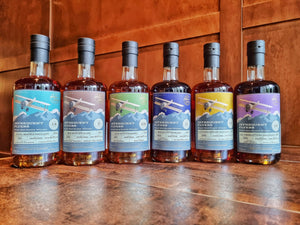 Join us in another virtual tasting with Independent Bottler - Infrequent Flyers. Presenting to us will be owner, Alistair Walker, joining us all the way from Scotland. This is definitely not a tasting you will want to miss.

The Infrequent Flyers bottling brand is the brain child of Alistair Walker, under his Alistair Walker Whisky Company. Although the company was only established in 2018, Alistair has been in the industry for almost 20 years. He started his career in 1997, at Burn Stewart Distillers, in a sales and marketing role, and was there for over 6 years. At that time, Burn Stewart were the owners of two single malt distilleries, Deanston and Tobermory. In 2004, Alistair joined the BenRiach Distillery Company and remained with them for over 12 years, until the business was eventually sold. During his time with this company as well, Alistair would find himself working with two other distilleries, GlenDronach and Glenglassaugh, as the BenRiach Company acquires them in 2008 and 2013 respectively. One of the three directors of this BenRiach Distillery Company is Billy Walker, father to Alistair Walker, what a pedigree!
The BenRiach, GlenDronach and Glenglassaugh distilleries were sold off to Brown-Forman in 2017. This is when Alistair started thinking of what he wanted to do next. He has always wanted to be his own boss, and he still wants to remain in the whisky industry, and therefore he decided to venture into the world of independent bottling! Independent bottling is quite a different game to what he has been doing for the last 20 years (working for the companies that actually make these whiskies). However, the independent bottling category is vibrant at the moment, and Alistair hopes to bottle whiskies from various distilleries, including lesser-known distilleries that are of excellent qualities, but have never been widely or consistently available. Hence the name, Infrequent Flyers!
On tasting will be 6 x 15ml samples of:
 
1) Infrequent Flyers Ben Nevis 2011/2021 9yo Virgin Oak Finish #2349, 232 Btls, 59.5%
2) Infrequent Flyers Royal Brackla 2006/2021 14yo Chinquapin Oak Barrel #1803, 274 Btls, 57.8%
3) Infrequent Flyers Miltonduff 2009/2021 11yo PX Sherry Finish #6341 , 646 Btls, 59.7%
 4) Infrequent Flyers Glen Keith 1993/2021 28yo Rye Barrel Finish #4827, 294 Btls, 52.2%
5) Infrequent Flyers Glenturret (Ruadh Maor) 2010/2021 10yo Marsala FInish #6358, 215 Btls, 57.8%
6) Infrequent Flyers Loch Lomond (Croftengea) 2005/2021 16yo PX Sherry #6353 , 605 Btls, 56.4%


Tasting will be done via Zoom
(Zoom Meeting Link to be Sent Later)

When: Tuesday, 19th of October 2021
Time: 8pm - 9.30pm
Price: $80 per person (for 6 x 15ml samples)

For Melbourne customers who can pickup from the bar, please click on "Pick up" when checking out. If you cannot make it during this time, please choose to have your pack delivered. 
Samples will be available for collection from the bar on Fridays and Saturdays from 2-5pm.

Join us online on the day if you can, but otherwise if you just want to purchase a tasting set for yourself to enjoy at your leisure or as a gift for someone else, be our guest too !