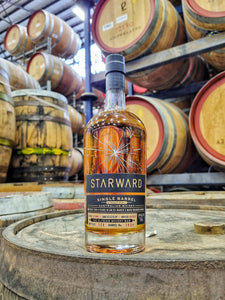 We are so excited to finally be able to share this news with you. We have bottled a Starward Single Cask !!! We have been working on this bottling with Jarrad and Carlie from Starward's Blending team, for about 3 years now. Now that it is ready and tasting amazing, we have finally bottled it! This bottling  is also to celebrate The Elysian's 5th Anniversary.

This cask was laid down in 2013 and bottled in 2022. The whisky was matured for 8 long years in a 200L American Oak Ex-Maker's Mark Bourbon Barrel (Barrel No. 1034). Anyone that has tried Starward from a bourbon cask will know how good it is. This is also the oldest single cask release that Starward has done. This whisky has notes of the signature banana with some butterscotch and lychee coming through too. Very fruity and elegant with a lovely sweetness that lingers. We have chosen to bottle it at an optimum drinking strength of 58%. 

Come join us as we talk more about this cask and how we came to bottle it. We will also be trying some of Starward's more recent releases; compare our cask with the first general release of  Starward Bourbon Cask; plus taste an Apera cask sample!


On tasting : 

Starward Tawny Cask #2 (Released 2022)
Starward Ginger Beer Cask #7 (Released 2022)
Starward Bourbon Cask (Released July 2018)
Starward Single Cask for The Elysian Whisky Bar 5th Anniversary 2013/2022 8yo Ex-Maker's Mark Bourbon Cask #1034, 138 Btls, 58%
Starward Apera Cask Sample


So book now and join us for a fun and informative tasting with Jarrad & Carlie
Spaces are extremely limited!


When: Tuesday, 14th of June 2022
Time: 6pm - 7.30pm
Price: $55pp.

Because you are subscribed to our mailing list, we are giving you first dibs on purchasing a bottle of this very special whisky.
Click on the link below to grab your bottle now.

Maximum of 2 per person

unless arranged prior.
We reserve the rights to cancel your order if more have been purchased.
Purchase bottle here  !