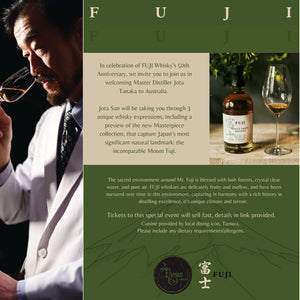 We are absolutely stoked to be having one of Japan's most highly regarded distillers in our venue for this tasting. Mr. Jota Tanaka has been with the Kirin company since 1989 and he has one of the most eclectic and diverse background, having worked in wine, bourbon and now Japanese whiskies. This is clearly reflected in the whiskies that he produces as a variety of styles of spirits are produced at Mt Fuji Distillery.

Mt Fuji Distillery (used to be known as Fuji Gotemba Distillery)
In August 1972, a joint venture between Kirin Brewery Company, Seagram & Sons, and Chivas Brothers happened and thus the Kirin-Seagram Company was established. By November 1973, the Fuji Gotemba Distillery was completed and productions starts. In 2002, when Seagram sold off its assets, the company name changed to Kirin Distillery Company Limited and became wholly owned subsidiary of Kirin Brewery Company Limited. In 2022, the distillery did some rebranding, and the distillery is now known as Mt Fuji Distillery and their products go under the "Fuji" label.

A variety of styles of spirits are produced at the distillery. A Scotch-style grain is made using continuous distillation, whilst their Canadian-style grain is distilled with a batch distillation method in kettle and column stills. The malt whiskies are distilled in traditional pot stills.

Mt Fuji Distillery (as the name suggests) is located at the foot of Mt Fuji in a town called Shizuoka. The water used in a lot of their production is taken from an aquifer running 100m underground. Analysis has shown that the water used today fell on Mt Fuji as snow 50 years ago! Almost all the barrels used at Fuji Gotemba Distillery is from their sister distillery in Kentucky, Four Roses.

Don't miss out on this rare opportunity to meet Tanaka san and listen to his many stories. We will be tasting 3 very special whiskies in this tasting, matched with light nibbles from Tamura Sake Bar. There will also be a limited amount of bottles available for purchase at the end of the night.
The whiskies that will be on tasting are:



Fuji Single Grain


Fuji Masterpiece 50th Anniversary Edition
3rd Whisky will be revealed on the night

Matched with light nibbles from Tamura Sake Bar

When: Tuesday, 14th of March 2023

2 sessions are available, so book carefully
1st Session: 5.30pm till 7pm
2nd Session: 7.30pm till 9pm

Price: $55 per person
Spaces are extremely limited, so don't miss out and grab your tickets now!