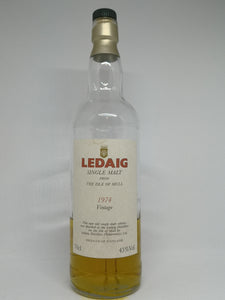 This is an official bottling from the Tobermory distillery. Ledaig is the name given to its peated malts. This whisky was distilled in 1974 and bottled in 1992. This whisky was distilled one year before the distillery mothballed in 1975 (for a number of years before being re-opened again).
89 pts on Whiskyfun
Tasting Notes:
Nose: Lovely minerality, starts off nutty and creamy like a Speyside whisky from the 70's. Clean, sweet barley sugar, stewed fruits, and the slightest hint of peat.
Palate: Fruity and light, tiny hint of wax and honey. Slightly earthy and peaty. More fruits than peat.