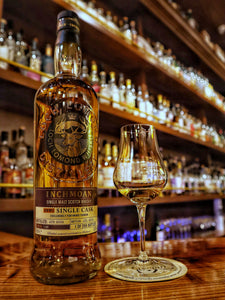 Loch Lomond Inchmoan for HNWS 2004/2019 15yo Bourbon Cask #148 255 Btls, 55.6%.
Inchmoan is the peated style single malt from Loch Lomond distilled in one of their straight neck pot stills.
Tasting note:
Bright citrus with some dusty cupboards, some hay and followed by sweet peaches. Not overly smoky on the nose. Palate is juicy with plenty of stonefruits and fruit salad. Gentle smoke comes on later. Plenty of peaches and apricots. Long finish.