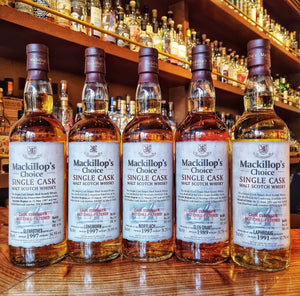 Our next tasting is with a brand that has been around for quite a number of years, since 1996! It's bottlings used to be found on many backbars and also in bottle shops, then all of a sudden they went silent for a number of years, but they are now back with some really exciting and long-age bottlings! Join us and find out more about Mackillop's Choice.

Mackillop's Choice is an independent whisky bottler, and was founded in 1996 by Angus Dundee Distillers (owner of the Glencadam and Tomintoul distilleries).

It is named after Lorne Mackillop. Lorne Mackillop is the heir to the chief of the Mackillop Clan, which was all but wiped out by the English in the aftermath of the battle of Culloden in 1745 during the Jabobite Rebellion.

After seven years extensive training in wines and spirits, Lorne Mackillop became a member of the Institute of Masters of Wine in London in 1984, and, at that time, was the youngest person to be accepted as a Master of Wine. The Institute presides over the most demanding examinations in wines and spirits in the world and, since its foundation in 1953, only a few members worldwide have passed these examinations and been considered worthy of this prestigious qualification. His comprehensive knowledge of whisky is reflected in the quality of "Mackillop's Choice".

Lorne selects the casks that are bottled in the Mackillop's Choice range. It is a range of specially selected single malt Scotch whiskies drawn from individual casks, and are bottled at either 43% or 46% alcohol, but more predominantly at their natural cask strength.
Presenting the whiskies to us is whisky expert, Liam Clarkin from The Spirits Company. 
The whiskies that will be on tasting are:
1) Mackillop's Choice Glenrothes 1997/2016 18yo Bourbon Cask #234 270 Btls, 54.3%
2) Mackillop's Choice Longmorn 1997/2020 22yo Bourbon Cask #900085 86 Btls, 56.8%
3) Mackillop's Choice Mortlach 1997/2017 20yo Bourbon Cask #2977 194 Btls, 50.2%
4) Mackillop's Choice Glen Grant 1989/2017 27yo Bourbon Cask #23046 223 Btls, 51.7%
5) Mackillop's Choice Laphroaig 1991/2018 26yo Bourbon Cask #6859 134 Btls, 43.7%


When: Wednesday, 11th of May 2022
Time: 6pm - 7.30pm
Where: In-person at The Elysian Whisky Bar
Price: $120 per person (5 x 15ml)
Spaces are limited, so don't miss out and grab your tickets now !