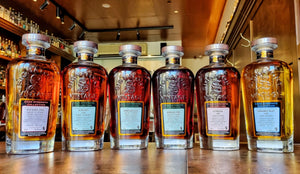 Signatory Vintage was established in 1988 by Andrew and Brian Symington, and are based near Pitlochry, in Perthshire, Scotland. The name "Signatory" was derived from the initial intention to find a person of suitable standing to sign labels for bottles drawn from a single cask. They follow a strict bottling regiment and have an amazing portfolio of whiskies bottled by them. We personally find Signatory whiskies to have great value, and 99.9% of the Signatory whiskies that we have tried have been nothing less than amazing.

This will be an in-house tasting of the latest batch of Signatory Vintage Cask Strength Collection, which have mostly sold out already. This batch consists mainly of sherry bombs, with the whiskies either matured or finished in sherry casks !!! And there is also an amazing long-age Unnamed Islay single malt of 28 years! Expect tropical fruits and an elegant soft smoke.

Presenting the whiskies to us will be whisky expert, Liam Clarkin from The Spirits Company.
The whiskies that will be on tasting are (6x15ml) of:
1) Glenlivet 2006/2021 14yo 1st Fill Sherry Butt #901279, 598 Btls, 62.2%
2
) Pulteney 2008/2021 12yo 33 Months Sherry Cask Finish #15, 652 Btls, 55.8%
3)
Mortlach 2010/2021 11yo 15 Months Sherry Cask Finish #10, 705 Btls, 57.8%
4) Benriach 2000/2021 20yo 8 Months Fresh Sherry Cask Finish #1, 692 Btls, 59.4%
5) Clynelish 1995/2021 25yo Refill Sherry Butt #11240, 570 Btls, 57.2%
6) Unnamed Islay 1992/2021 28yo Bourbon Barrels Vatting Cask #6774, 237 Btls, 52.8%
When: Saturday, 4th of December 2021
Time: 2.30pm - 4pm
Price: $120 per person
Spaces are limited, so don't miss out and grab your tickets now !