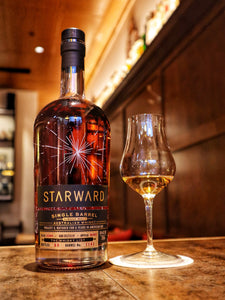 Starward Projects for The Whisky List "X + 6" 2014/2021 6yo 100L American Oak #1141, 60 Btls, 58%
Some of you might remember many years ago Starward released a very experimental whisky called "Project X". It was a matured whisky, but it was clear. They kept some of that liquid back to be aged for a further 6 years in a 100L Barossa Valley American Oak cask, and this is the end product - and it tastes amazing !!! This bottling was done for The Whisky List and only 60 bottles came out of this cask. Definitely not one to be missed.
Tasting note:

On the nose, vanilla, red berries, jammy with some sawdust and a some lovely soft spices. Palate has the same vanilla and berries, with some cherries, juicy mixed berries. Medium sweet, well balanced and very tasty.