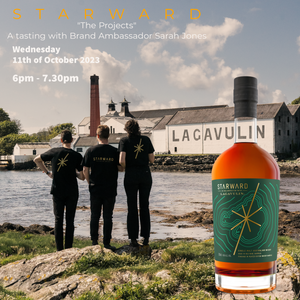 Over the years, Starward Distillery has been releasing some pretty amazing special releases which they call their "Projects".  Each one of them unique, experimental, fun and most of them very tasty! Earlier this year we saw them release the Muscat Cask which was absolutely fantastic. And just yesterday, Starward announced their latest Limited Release - Starward Finished in Lagavulin Casks.  How exciting is that?!

In this tasting, we will be looking at some of the past Projects releases, and especially looking at the evolution of the Peated Finish expressions. Jarrad Huckshold, Head of Blending and Downstream at Starward Distillery, has also hand-picked a cask sample for us to taste. On top of all that, there will also be a surprise bonus whisky (that we don't even know about). So don't wait and grab your tickets now. Talking us through the whiskies will be Brand Ambassador Sarah Jones! She has more than 17 years of experience in hospitality including working at several excellent whisky bars in Melbourne.


On tasting : 

Starward Two-Fold and Grapefruit Soda Highball on Arrival

Starward Muscat Casks (Released 2023)
Starward Unexpeated
Starward Peated Finish
Starward Finished in Lagavulin Casks (Ballot Just Opened)
Starward Single Barrel (Cask Sample)
Starward Surprise Dram


Book now and join us for a fun and informative tasting with Sarah.
Spaces are extremely limited!


When: Wednesday, 11th of October 2023
Time: 6pm - 7.30pm
Price: $55