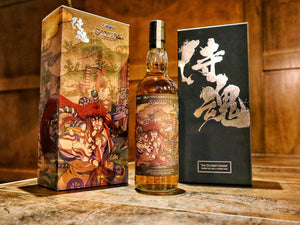 The Drunken Master & SNK Samurai Showdown "Senryo Kyoshiro" Bunnahabhain Moine 2012/2021 8yo Butt #0001349 264 Btls, 57.6%
This is a bottling of Bunnahabhain Moine (peated style) by Drunken Master in Taiwan in collaboration with game-makers SNK, using their famous Samurai Showdown character on the label.
Tasting note:
Briny, smoky with plenty of seaweed. Palate is gentle, sweet and smoky, gentle on the sherry, a touch peppery, great balance.