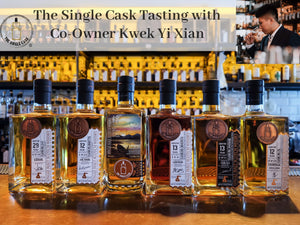 We have been long time friends of The Single Cask brand and their amazing bar in Singapore. Join us in welcoming Kwek Yi Xian, co-owner of The Single Cask, as he presents for the first time at The Elysian. In this tasting, Yi Xian will be presenting some very special bottlings, some that have big age statements, taste spectacular and have long sold out.

A quick introduction about the brand. The Single Cask is an Independent Bottler, whisky shop and also whisky bar, that was started by Ben Curtis in 2010. They have offices in London and Singapore, and are distributed in markets such as UK, Singapore, Denmark, Taiwan and Japan namely. Their whisky bar in Chjimes, Singapore, started in 2015, and is now managed by business partners Brendan, Yi Xian and Wei De.
The whiskies that will be on tasting are:
1) Aultmore 2010 12yo #800775 Bourbon Barrel, 55%
2) Linkwood 2008 13yo #304397A Finished in a First Fill Ruby Port Barrel, 56.2%
3) Ledaig 1992 29yo #247 Bourbon Hogshead, 44.9%
4) Ben Nevis 1996 25yo #1332 Bourbon Hogshead, 51.9%
5) Caol Ila 2008 13yo #314560E Finished in an Amontillado Octave, 56.3%
6) Lochindaal 2009 12yo #76 First Fill Bourbon Barrel, 61.3%

When: Thursday, 27th of July 2023
Time: 6pm - 7.30pm
Price: $110pp. (for 6 x 15ml of whiskies)
Spaces are extremely limited, so don't miss out and grab your tickets now !