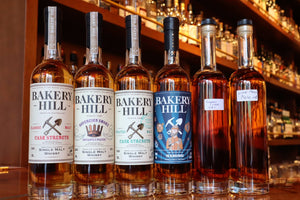 Join us in another virtual tasting, and this time we will be presenting you some whiskies from one of our favourite local producers, Bakery Hill !!! The formidable father and son duo, Andrew & David Baker, will be talking us through this fantastic line-up we have got for you. 

A brief history on Bakery Hill
Bakery Hill was founded in 1999 by David Baker in the little suburb of Bayswater, Victoria. It is the oldest distillery on mainland Australia. David was a former food scientist and a high school teacher, and he was tired of people saying that good whiskies can only be made in Scotland, and therefore he set out to prove them wrong, and that he definitely has!

He commissioned John Dore & Co Ltd, one of the oldest still makers in the UK, to make his still. David has always been a fan of the Speyside style of whiskies, and therefore the still was designed to produce that style of spirit. Over the next few years, David would perfect his distillation techniques and played around with maturation, and finally in 2003, David Baker released his first whiskies.

Initially, only Australian malts were used for their un-peated expressions, and UK peated malts for their peated expressions, but these days other malts from Belgium and New Zealand have also been used, and they have appeared in several special releases. David has always predominantly used American Oak Ex-Jack Daniels' bourbon casks to mature his whiskies, which really allows the spirit character to shine through. However in recent years, David and Andrew have also been experimenting with other cask types for finishing, such as Imperial Stout casks as we saw in "The Blunderbuss", French Oak casks and sherry casks, and the result has been fantastic. Production capacity is still relatively small, sitting at about 5000L per annum.

For the longest time, it was a one man show with David doing everything from mashing, distilling, to bottling and marketing. Thankfully, a couple years ago, David's son, Andrew joined the business, and now Andrew heads up the marketing and sales, but also gets his hands dirty with production when needed.

Very important to also mention that David is a strong believer in educating consumers, especially at the time when he started. Single malts were not a thing, there were probably only a handful of local whiskies available, and definitely no whisky bars too. Therefore David started running his own whisky masterclasses 10 years ago and continues to run them today. In fact last year, The Elysian Whisky Bar played host to these masterclasses. David runs different classes, talking about whisky production, how to taste whiskies, guided tastings with whiskies from around the world, and also obviously Bakery Hill whisky tastings!

Now, for this tasting, we have cherry-picked a few very special whiskies from Bakery Hill's portfolio. All of them cask strength, some that are sold out, and some that are un-released. You are in for a treat!


On tasting will be 6 x 20ml samples of : 
Bakery Hill Classic Malt Cask Strength, 60%
Bakery Hill Cask Sample, Sherry Cask Finish, 58% (Un-Released)
Bakery Hill "The Blunderbuss" Hop Nation Colab, Russian Imperial Stout Finish, 52%
Bakery Hill "Little French Pete", 50% (Un-Released)
Bakery Hill Sovereign Smoke "Defiantly Peated", 50%
Bakery Hill Peated Malt Cask Strength (Jim Murray's 2020 Southern Hemisphere Whisky of the Year), 60%

Book now and don't miss out! As usual spaces are extremely limited!

When: Tuesday, 6th of October 2020
Time: 7pm - 8.30pm
Price: $100 pp.
Where: At the comfort of your own home ( via Zoom)
Zoom Link will be sent out a few days prior to tasting via e-mail