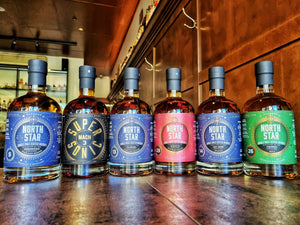 North Star Spirits is not a new name in the Independent Bottling world anymore. North Star now has a massive fan base and following here in Australia, following many many excellent releases. The brand was created by Iain Croucher, former AD Rattray Brand Ambassador. Utilising his experience, skills, and some good connections, he has managed to source some amazing barrels of whiskies. His releases have already created lots of hype and attention. We at The Elysian Whisky Bar has hosted a tasting for every single series of whiskies released by Iain to date, but this might be the most exciting Series so far. 

Been working on this for a while now, so we are so proud to finally announce that Iain has done a very special bottling for The Elysian Whisky Bar, to celebrate our 5th Anniversary! We have chosen a long-aged, elegant and fruity Glen Keith 28yo to celebrate this occasion !!! * Thanks Scotty and Iain for making this happen. 

Iain will be joining us all the way from Scotland to present the whiskies to us. So join us in this very exciting tasting and celebrate our 5th Anniversary with us.
In this tasting:
6 x 15ml
1) NS Series 16 Ardnamurchan 2015/2021 5yo,1st Fill Barrel, 246 Btls, 52.5%
2) NS Series 16 Dalwhinnie 2008/2021 13yo, Hogshead, 235 Btls, 52%
3) NS Series 15 for The Elysian Whisky Bar Glen Keith 1993/2021 28yo, 1st Fill Barrel, 124 Btls, 57.8%  RRP$380
4) NS Series 16 Tobermory 1995/2021 26yo, Refill Hogshead, 238 Btls, 51%
5) NS Super Sonic Mach 3 Blended Malt Distilled 2013, Matured in Sherry Butts, 777 Btls, 55%
6) NS Series 16 Loch Lomond Inchfad 2007/2021 14yo, Oloroso Barrique, 234 Btls, 49%

When: Monday, 7th of February 2022
Time: 8pm - 9.30pm (Melbourne Time)
Where: At the comfort of your own home, tasting done via ZOOM

Tickets are extremely limited, so don't miss out and grab yours now!

For interstate customers, please select Express Delivery to make sure your packs arrive on time. Local customers can also choose to pick-up the packs and bottles from the bar.