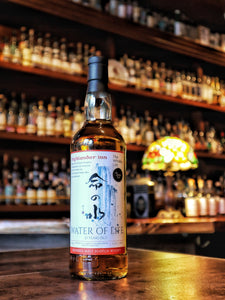 Highlander Inn for The Elysian Whisky Bar & The Whisky List's 4th Anniversary! Scotch Blended Malt 1997/2020 23yo, Bourbon Cask, 163 bottles, 52.6%.

This was a cask that was chosen for us by Minagawa Tatsuya san of the Highlander Inn to celebrate the bar's and our good friends at The Whisky List's 4th Anniversary. The whisky is a blended malt known internally as "Aldunie", and consists of predominantly Kininvie malts, with some portion of Balvenie and Glenfiddich.


Tasting note:
On the nose, there is a lovely freshness, citrusy, touch of wax, honey, a bit of vanilla custard, minerals and some icing. Palate has lemon citrus, slight waxiness again, and savoury. There is a touch of rancio funk to it, which is excellent. Clean and medium sweet. Long finish.